Aragorn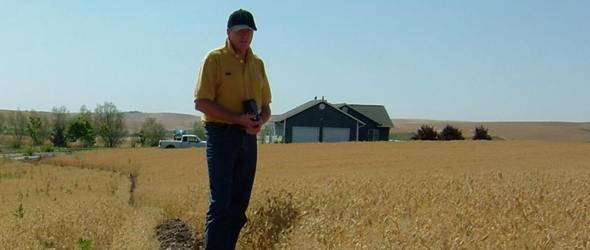 Aragorn has come to the PNW through a unique breeding partnership between ProGene Plant Research and Plant Research Ltd. of New Zealand. PRL breeder Adrian Russell is pictured above. Aragorn is a high quality smooth green pea with a dark green cotyledon like Ariel and Cruiser. Aragorn has also displayed improved bleach resistance which will place it between Ariel and Cruiser.
The primary advantage of Aragorn is the larger seed size and higher yield capability. It also has lodging resistance that is equal to or better than all other semi-leafless green varieties, which allows for even easier harvest with more acres per hour. This, coupled together with Aragorn's earlier maturity than Cruiser and Columbian, make it a natural for the Pacific Northwest.
View Aragorn brochure (PDF 320kb)
View the Aragorn story (PDF 443kb)
Key features
Earlier maturity.
Enhanced yield capability.
Stronger bleach resistance.
High-quality green cotyledon.
Excellent lodging resistance.
Good splitter.
---
Crusader/Cruiser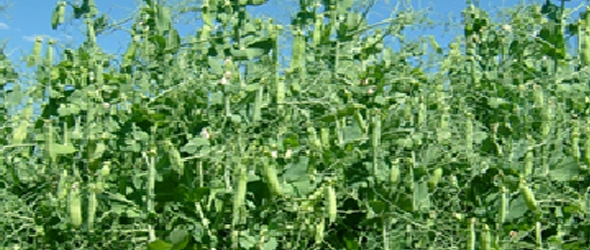 Cruiser was bred by Adrian Russell in New Zealand and has been made available in the Pacific Northwest by ProGene Plant Research. Cruiser is a green seeded pea that has easy production handling characteristics. The plants have excellent lodging resistance and remain erect through harvest.
For the processor, it makes an excellent split green pea with its dark green cotyledon colour. Cruiser is rapidly becoming the dominant variety in the Palouse because of its improved agronomic traits and higher yield capacity.
Recently this variety has found excellent acceptance in the Indian market where Pea & Lentil trade representative Shakun Dalal reports, "The Cruiser variety is the buzz word in the Indian market…" Pulse Pipeline November 18, 2005.
View Crusader/Cruiser brochure (PDF 72kb)
Key features
Semi-leafless.
Excellent lodging resistance.
Excellent splitter.
Dark green cotyledon.
---
Ariel
Bred in New Zealand and developed by ProGene Plant Research, Ariel has become one of the leading pea varieties grown in the Pacific Northwest.
Ariel is a semi-leafless, strong, upright green pea. It has demonstrated very competitive yields with superior bleach resistance. Ariel has yielded 113% of Columbian in trials over the past 5 years and good field production results have established it as a superior commercial pea variety. With an average plant height of 23 inches tall, a high pod set, and a strong semi-leafless plant type, Ariel can lend itself to cutting with a wheat header. Seed size of this variety also allows growers to plant fewer pounds per acre than many other varieties.
Ariel's superior ability at resisting bleach and its dark green cotyledon has helped marketers to establish it as an asked for variety in the market.
View Ariel brochure (PDF 163kb)
Key features
Best bleach resistance available.
Strong standing ability.
Excellent splitter.
---
Greenwood (NEW)
Key features
Dark green seeded blue pea.
Mid Maturing variety.
High and stable yield.
Powdery mildew resistance
Suitable for stock feed and human consumption.
---